For three weeks now we have been working on a game – and now we are finally done and the exhibition has been held. For this project I have been working with Ola, and our output was an air fan. We were testing and looking at different concepts, when we suddenly stumbled over the Bernoulli's principle.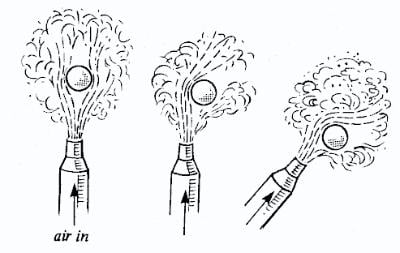 Illustration link.
A flying object is kind of magical, and by using a ball with a certain size and a fan with a certain strength and nozzle – we found that we could make a ball fly quite controlled.
Alfred told us about this game that he had when he were little, the Harry Potter Levetating Challenge, who was our initial inspiration. This is actually the only game that we could find using this same effect.
We decided to make a space themed game, where you would have to fly through the obstacles in a spinning wheel.
Our 3D-printed obstacles are drying in the background (yes, my graphic designer-friends, this is what I do now. Haha).
Final concept
We decided to make a game for children, mainly about 7–10 years old, but children in any ages could play. Our goal was to create a game contributing to the use of children's imagination by endless of opportunities and no specific rules.
This is the description of our final solution:
Welcome to a journey through space and time. Hank, Sarah, Clonk and Spike has been caught in a space storm, help them get trough it alive! How long can you avoid the space garbage and asteroids?

Build your own storm, choose how much garbage and how many asteroids you run in to. A hand held joystick controls the fan. Choose your speed level – do you dare fly at level 3?
Say hello to Hank, Sarah, Spike and Clonk.

Take a look!
---
Next week will be quite exciting; the Design Management course will be staying in Risør for one week. We are going to work with students from the University in Agder, who has more of a business and entrepreneur approach. My group is also having a 30 minute lecture about branding (and I sure love branding).